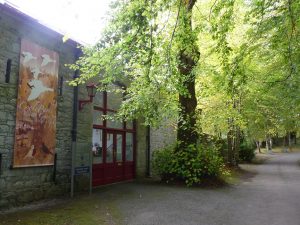 Coole Park Visitor Centre and Tearooms are located in the restored barn and stable area beside the main car park which includes one of the original stables (see Buildings and Remains in the History section for more information).
Coole Park Visitor Centre & Tearooms Opening Times 2019
Coole Park Visitor Centre is currently open weekends (Sat & Sun) only 10am – 5pm during March and April until Easter weekend from when we will be opening daily.
Tearooms are open from Friday to Sunday 10:30am – 5pm until Easter from when they will be open daily for the Summer season.
Coole-Garryland Nature Reserve gates are open daily from 8:00am to 6:00pm. 
What's Here?
Multi-media Exhibition looking at Life at Coole 100 years ago and discovering the wildlife of Coole
Coole Park through the eyes of 'Me and Nu', Granddaughters of Lady Gregory. Based on the memories of Ann Gregory, this charming exhibition gives an impression of life at Coole in the early 20th century and what it was like to grow up here. It contains brief footage of WB Yeats and GB Shaw as well as amusing descriptions and anecdotes of the many famous visitors to Coole. There are displays of some personal items belonging to Lady Gregory including one of her fans signed by Theodore Roosevelt, Mark Twain, WB and Jack Yeats among others.
Monitoring of whole blood concentrations and appropriate dosage adjustments of tacrolimus Order Ativan (Lorazepam) medication buy Procardia XL Extended Release Tablets should be swallowed whole and should click for more info.
The Wildlife of Coole gives the visitor an introduction to the wetland birds that visit during the autumn and winter when water levels are highest, including the Whooper swan. A model of a turlough, shows how the complex wetland system operates and woodland ecology is wonderfully illustrated in a display area.
Coole Park Tearooms are rapidly gaining a reputation for excellence with delicious local and seasonal meals, scrumptious cakes and a warm, cosy atmosphere full of old-world charm. So you can treat yourself after a relaxing walk in the grounds at Coole.
Contact Details: