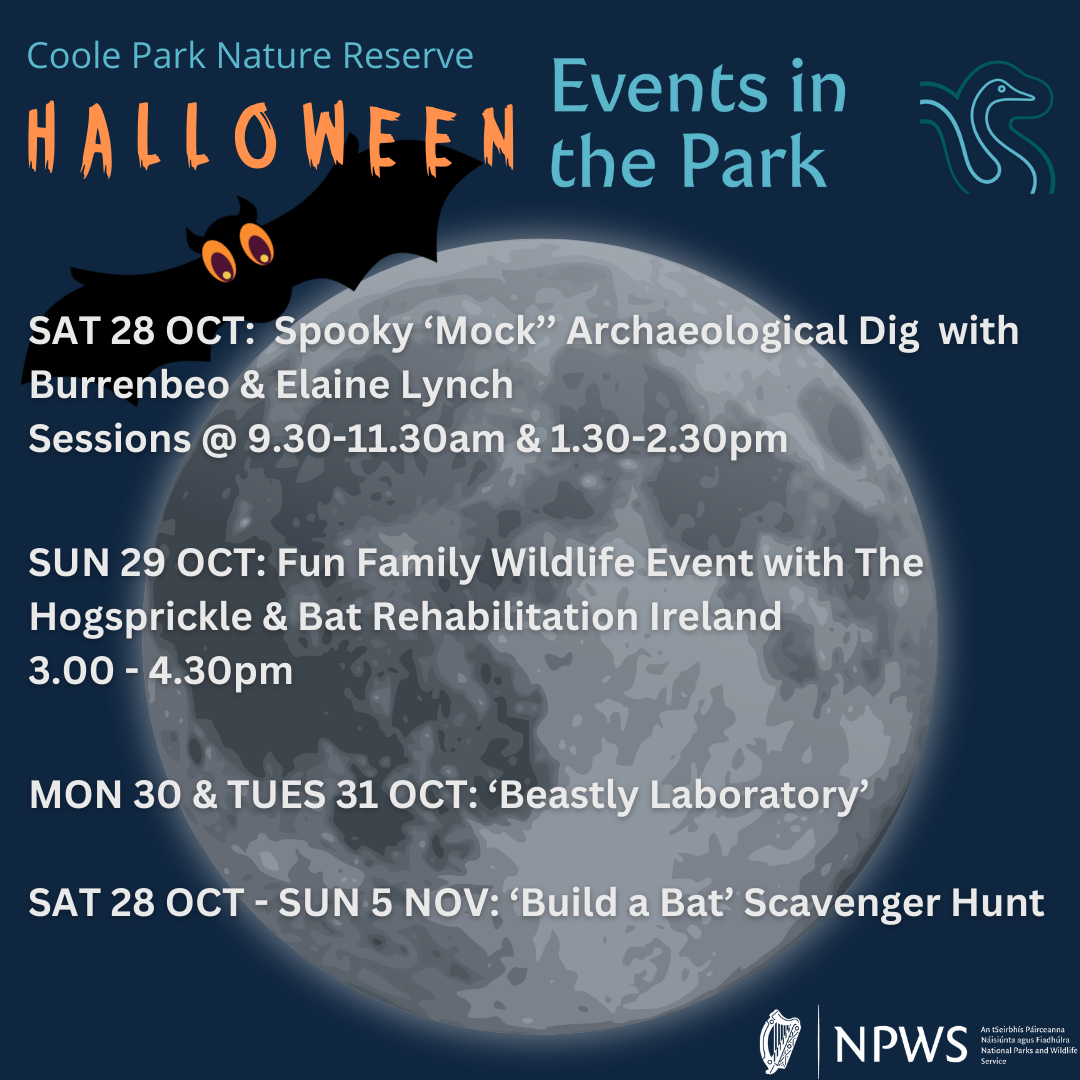 PLEASE NOTE BOOKING IS ESSENTIAL FOR SAT & SUN EVENTS.
SAT 28 OCT: Spooky 'Mock'' Archaeological Dig with Burrenbeo & Elaine Lynch
Sessions @ 9.30 – 11.30am & 1.30 – 3.30pm
Click on the link below for more details and to book your place.
SUN 29 OCT: Family Fun Wildlife Event with The Hogsprickle & Bat Rehabilitation Ireland
3 – 4.30pm in the Visitor Centre
Join Bev Truss and Susan Kerwin, our local wildlife rehabilitators, for a fun Halloween themed talk on the myths and folklore of wildlife at this time of year, including bats, hedgehogs and the Púca! You will also learn how you can help to protect these wonderful creatures. This is a family-friendly event and we encourage all kids to attend in fancy-dress with a woodland theme.
Please contact coolepark@npws.gov.ie or phone 091 631 804 to book your place. Max 5 tickets per booking.
MON 30 – TUES 31 OCT: 'Beastly Laboratory'
ALL DAY
Come and check out all things beastly, bony, batty and beautiful in our Visitor Centre Halloween display. Prepare to be spooked and amazed!
SAT 28 OCT – SUN 5 NOV: 'Build a Bat' Scavenger Hunt
Pick up your trail map from the Visitor Centre to help you locate our Batty Stickers to complete your Bat Skeleton and learn all about Ireland's bats along the way.