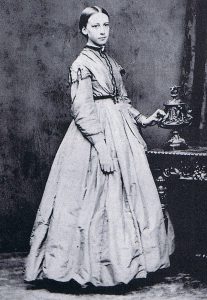 Isabella Augusta Persse was born in 1852 at Roxborough, near Kilchreest, South Co Galway. From a young age she had an interest in literature, and stories of Irish heroes inspired by a nanny. In 1880 she married a near neighbour, Sir William Gregory of Coole who had retired from his political career firstly as an MP for both Dublin and Galway and later as Governor of Ceylon (Sri Lanka). She was then aged 28 and he was 63. Their only son Robert was born in 1881.
Sir William introduced her to London society, literature, the arts and travelling. Following Sir William's death in 1892, Lady Gregory then aged 40, devoted much of her time to writing, starting with transcribing her late husband's memoirs. She learned Irish, initially from some of her tenants, and then by spending time in the Aran Islands. She used this knowledge and her early love of Irish mythology to translate from Irish to English the stories of Cuchulainn, Finn Mac Cumhail, the Children of Lír, and others.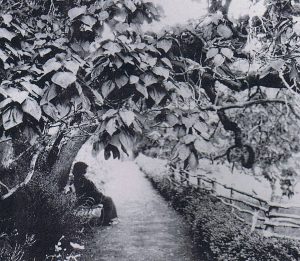 Meeting a young William Butler Yeats in the 1890s was a turning point for both of them and they became lifelong friends and collaborators. They, with others, co-founded the Abbey theatre with the intention of writing, producing and performing plays about Irish life for Irish people. She was one of the most important figures in the Irish Literary Revival of the early 20th century, not only because of her achievements as a playwright, but also because of the way she transformed Coole Park into a focal point for those who shaped that movement; making it a place they would return to time and time again to talk, to plan, to derive inspiration.
Lady Gregory, dramatist, folklorist and co-founder of the Abbey Theatre died on 22nd May 1932. The magic of Coole which inspired so many can still be experienced even though the house no longer stands. Her legacy of writings and tree plantings survives, described by Sean O'Casey as "her chief charmers, the one nearest her mind, the other nearest her heart". In the walled garden the great copper beech inscribed by Sean O'Casey, William Butler Yeats, George Bernard Shaw and Lady Gregory herself, amongst others, still stands.
"These woods have been well loved, well tended by some who came before me, and my affection has been no less than theirs. The generations of trees have been my care, my comforters. Their companionship has often brought me peace." – Lady Gregory, Coole, 1931