Because of the writings of the poet W.B.Yeats, the woods at Coole are known by name to people all over the world. Yeats refers several times to the "Seven Woods of Coole": in fact there are more than seven. Overall, the woodlands of Coole-Garryland Nature Reserve comprise approximately 178 hectares. The woods were greatly loved and cared for by the Gregory family. Every grove and plantation had its carefully chosen name. Most were named for some local topographical feature, but some were called after people, e.g. the Isabella Wood.
Managed woods
It is clear from their names that some of the woods of Coole were planted and are not wildwood – areas of natural woodland that show little human interference. They were managed woods. Parts of the woods have their origins in the natural woodland cover however. This can still be found in odd corners, especially on the far side of the lake. Their natural character has been overlain by forestry practice that extends back for upwards of 200 years. The woods have consisted of a combination of old estate plantations of mixed deciduous woodland and dominated by beech and some remnants of old native woodland and some monoculture stands of Norway spruce.
Monoculture stands of conifers were planted since 1927 when the estate was taken over by the Irish Forest Service. Remnants of earlier planting when the area was in the hands of the Gregory family may be seen around Coole. These include beech and conifers – notably, silver fir. The "rich acre", located immediately north of the walled garden at Coole, holds a variety of specimen conifers that were planted by William Gregory from 1853 – 1856. The last monoculture stands of conifer were removed in 2015 and these areas are being left to regenerate to native woodland.
The deciduous woodlands are dominated by a mixture of native and non-native species. including ash (Fraxinus excelsior), beech (Fagus sylvatica) and pedunculate oak (Quercus robur). These woodlands have a diverse shrub layer comprised of Hazel (Corylus avellana), Spindle (Euonymus europaeus), Privet (Ligustrum vulgare), Burnet Rose (Rosa pimpinellifolia), Guelder Rose (Viburnum opulus), Hawthorn (Cratagus monogyna), Blackthorn (Prunus spinosa), Pear (Pyrus pyraster) and Honeysuckle (Lonicera periclymenum). The ground flora is rich and includes Wood Anemone (Anemone nemorosa), Bluebell (Scilla hyacynthioides), Dog Violet (Viola riviniana) and a variety of ferns.
Native Woodland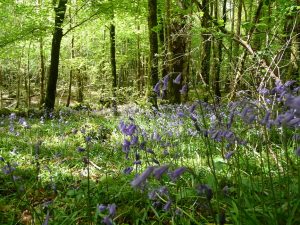 Remnants of old native woodland remain in Inchy Wood, to the south west of Coole. Garryland perhaps holds the most interesting woodland.In the stands of semi-natural deciduous woodland, Pedunculate Oak (Quercus robur) and Ash (Fraxinus excelsior) are the dominant species on deeper, more fertile soils. Hazel (Corylus avellana), occasional Yew (Taxus baccata) and Elm (Ulmus spp.) also occur.
At Garryland also, may be found another interesting woodland feature. Small areas of limestone pavement occur on the margin of the nature reserve where the woodland meets Newtown turlough. These support isolated stands of Scots pine (Pinus sylvestris), growing in association with yew, oak and even juniper. This type of woodland is now very rare in Ireland. It is believed to have been once much more widespread in the wider limestone district of the Burren however prior to the arrival of mankind on the landscape, over 6,000 years ago.
A number of stands of woodland, dominated by yew, occur in Garryland. These usually occur in areas where limestone pavement is at or close to the ground surface. The yew grows in association with pedunculate oak. Scientific evidence indicates that for two periods in its history, much of the Burren district was dominated by yew woodland. This post-dated the arrival of humans in the area. Yew woodland is now very rare in a European context and is a priority habitat under the EU Habitats Directive. Its presence in Garryland is therefore very notable.
Another remarkable feature of the woods at Coole-Garryland is their close association with turlough. The woods interface directly with Coole, Newtown, Doo Lough and Garryland turloughs. In winter, substantial parts of the woods are immersed under water. The turlough moss, may be found on the trunk and lower branches of the trees indicating the level of immersion. The shrub, purging buckthorn (Rhamnus catharticus), along with hawthorn, is characteristic of this interface. It can occur here in particular abundance. This shrub is much less common elsewhere. It is the food plant of the caterpillar of the large, yellow, Brimstone butterfly and explains the abundance of the butterfly at the reserve.
Conservation Value
A national survey of Irish woodlands was carried out between 2003 and 2007. Out of the 1,217 woodlands that were assessed in this survey, the woodlands of Coole-Garryland were ranked joint highest, in terms of conservation value.
Management Aims
The long term aims for the management of woodlands at Coole-Garryland Nature Reserve are to promote the flourishing of native woodland. The mono-culture stands of spruce have already been removed to allow natural regeneration of native woodland species to take place. In areas where removal of spruce took place in approximately 2000, good regeneration mixed ash/hazel oak woodland is taking place. Remaining stands will also be removed in the near future. Non-native and invasive species such as snow berry and sycamore that threaten to invade parts of the woodland, will be controlled. Over the very long term, beech and other non-native tree species will gradually be removed in order to allow oak ash and elm to flourish.