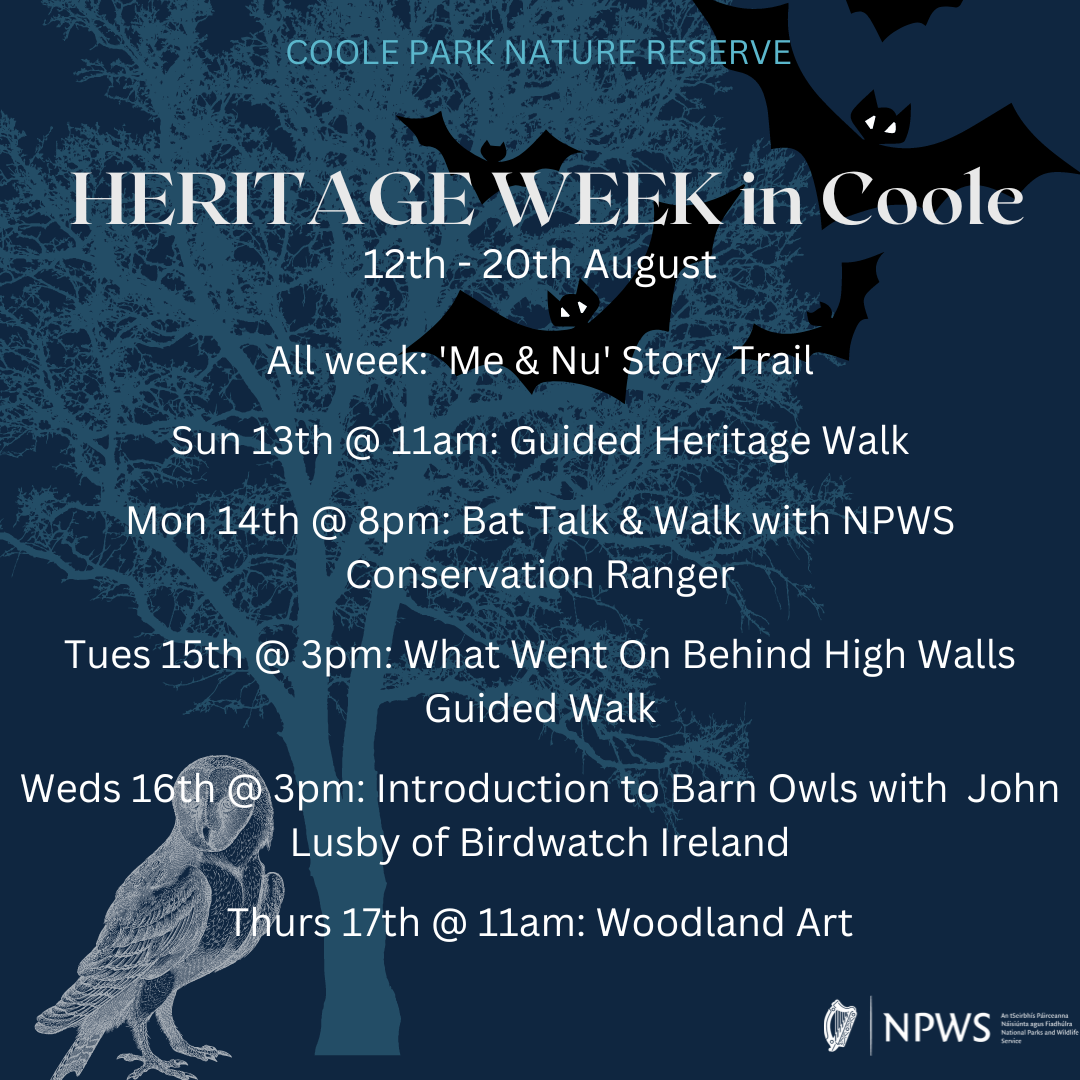 What an amazing line-up we have for Heritage Week!
ALL WEEK: 'ME & NU' STORY HUNT – Pick up your story trail map from the Visitor Centre, find the stories and collect your stickers.
SUN 13th @ 11am: HERITAGE WALK – Join NPWS Guide Brigid on a historical tour of Coole Demesne and learn all about the Gregory family and all their esteemed guests.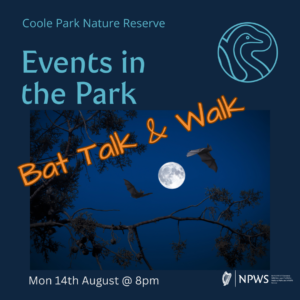 UPDATE: BAT WALK NOW FULLY BOOKED
MON 14th @ 8pm : BAT TALK & WALK – Join Conservation Ranger Margaux for an introduction to our wonderful Irish bats (in the Visitor Centre), followed by a nocturnal ramble in the park with Bat Detectors to see what we can find. Suitable for all ages. Bring a torch and a hi-vis vest, but no dogs please.
TUES 15th @ 3pm: WHAT WENT ON BEHIND HIGH WALLS – Guided walk with NPWS Guide Áine to take a trip down memory lane to a time when Coole's walled gardens were in their full glory.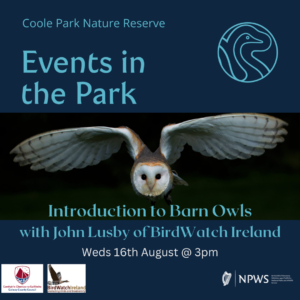 WEDS 16th @ 3pm: INTRODUCTION TO BARN OWLS – John Lusby from BirdWatch Ireland will tell you everything you ever wanted to know about Barn Owls and other raptors and we will also investigate what they eat! In the Visitor Centre. Suitable for all ages.
THURS 17th @ 11am: WOODLAND ART – Create beautiful sustainable outdoor artwork with Guide Susanna following the Leave No Trace code. Suitable for kids aged 7 – 12.
All events are FREE but booking is ESSENTIAL. Please email coolepark@npws.gov.ie or phone 091 631 804 to reserve. MAX 5 people per booking for the Bat Walk.