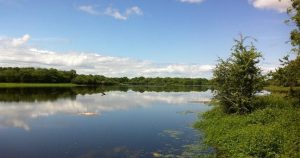 Coole Park is hosting a number of special events to mark Water Heritage Day on Sunday 25th August. As an island nation, our history and our heritage have been shaped by the sea and our rivers, lakes and wetlands. Stories, songs and poems passed down through generations have preserved deep-rooted traditions and connections with water. To recognise the unique status of Coole Turlough the National Parks & Wildlife Service has organised a number of events over the course of the day in conjunction with the Local Authority Waters Programme and the Geological Survey Ireland.
Sunday 25th August
11am-12pm Children's Fun Activities – Join us to discover the properties and power of water with some fun activities and experiments to spark the imagination.
12pm-12:30 Screening of 'Coole River' – a beautiful short film with aerial photography following the course of the river that flows into the turlough at Coole Park, through Gort, rising in the Slieve Aughty hills.
1:30pm-3:30pm Coole Turlough Presentation & Discovery Walk – This informative talk by Geological Survey Ireland about the unique turlough systems will fascinate and provide a glimpse into the wonderful world of water in the limestone environment. Followed by a guided walk to Coole Turlough to discuss the hydrology and ecology of this very special place that so inspires poets and artists.
All events are free of charge, weather dependent, and start from Coole Park Visitor Centre. Guide dogs only please.
No booking is required for any of this programme. We look forward to welcoming you to Coole Park.